AUTO REPAIR AND COLLISION CENTER
Reliable and knowledgeable mechanics located in Los Angeles, CA
Get A Quote
We keep your car on the road with professional prompt service
We are dedicated to the highest form of customer service and quality delivered
with a sense of warmth and friendliness.
Twenty Years of Combined Experience
Yourik and Artin Reyhanian have run the shop for the last 10 years. The brothers pride themselves on reliable honest auto care and body work for domestic and foreign cars.
Affordable auto repair

Maintenance packages

Inspection and repairs

Dedicated to service
Learn More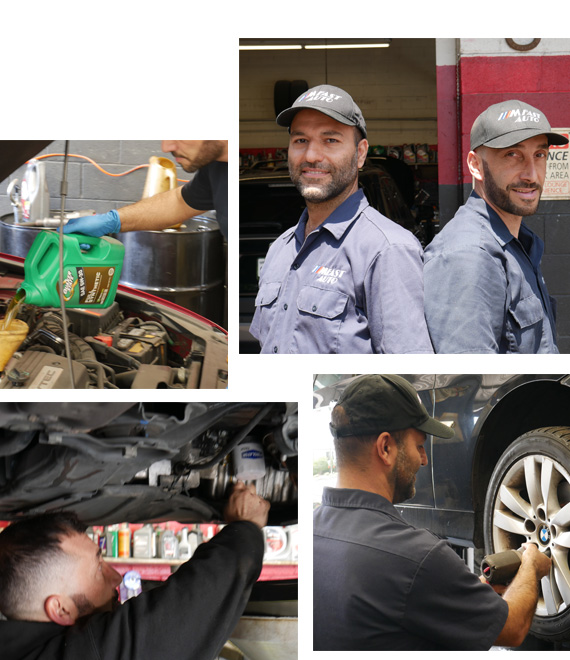 A professional automotive repair
and auto maintenance company
M Fast Auto has been providing quality car care in Los Angeles since 2002. We are a family-owned business delivering honest and professional automotive repair and auto maintenance services to the people of Los Angeles and surrounding areas.
Learn More
For any additional questions regarding M Fast Auto
and our our services, feel free to contact us
What is preventative maintenance?
Preventative maintenance is regular maintenance of your vehicle that helps keep your automobile running efficiently and eliminating potential problems that may leave you stranded.
What maintenance should I be doing and when?
On average, vehicles are estimated to need an oil change every 3,000 miles or every six months. This can vary based on your driving habits, your driving frequency, the age of your vehicle, and the quality of the oil you use.
How should I get my tires aligned?
For virtually all vehicles, it's necessary to get your wheels aligned periodically. Most car experts recommend scheduling an alignment every other oil change, or approximately every 6,000 miles
When should I get a transmission flush?
Depending on what the manufacturer recommends, you may need to get a transmission flush every 30,000 miles or two years.
Make an appointment or leave feedback
If you have any questions about us please don't hesitate
to contact us with any car repair questions.
4557 Fountain Ave Los Angeles, CA 90029
(323) 660-9920
Hours
Monday-Friday
8.30am - 6.00pm